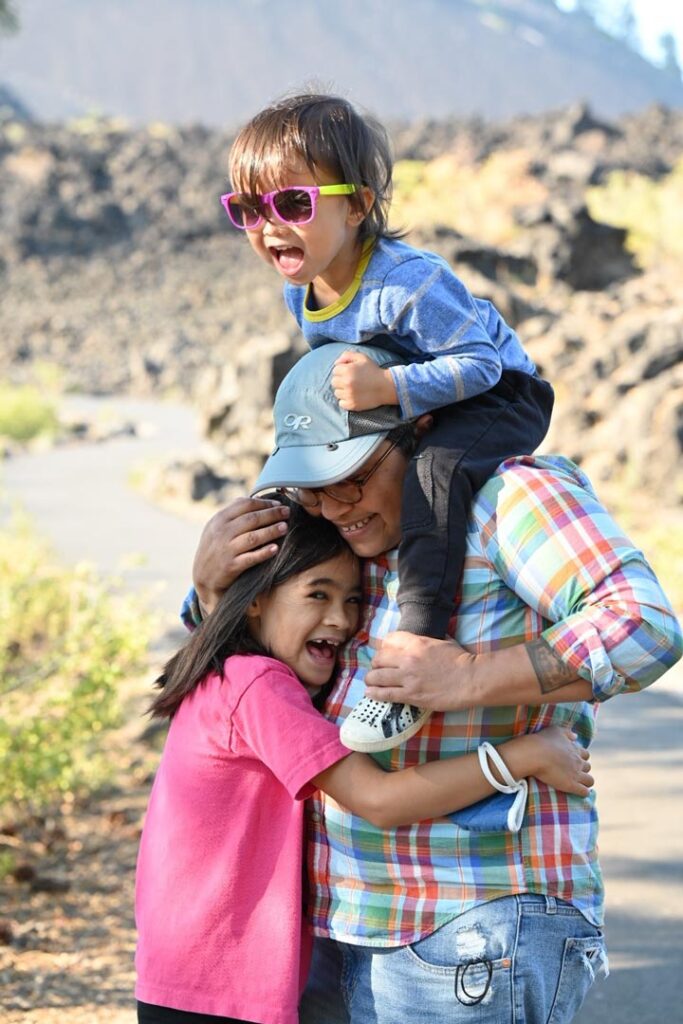 Kina is a parent of two children; one of whom attends school in the Bend-La Pine Schools District and another who will (hopefully) begin Kindergarten in Bend-La Pine Schools' phenomenal Spanish Dual Immersion program. Kina and their siblings are first-generation college graduates. Their father enlisted in the U.S. Air Force directly after graduating from high school and later retired after serving for more than 20 years. Kina's mother emigrated from the Philippines and eventually earned her GED while raising three children and working full-time. Kina has always been acutely aware of the dedication, perseverance and sacrifices that had been made on their behalf. It is this grit and these values that drive Kina's passion for quality public education and access for all.
As someone who is biracial and part of the LGBTQIA2S+ community, Kina has been on the receiving end of discrimination and harassment. They know what it feels like to be excluded. On the contrary, Kina has also had pivotal moments when Black and Brown teachers saw something in them and went out of their way to ensure Kina felt heard, seen, and empowered. These moments of belonging fuel Kina's passion for elevating youth in our community. Students experience these remarkable moments at celebrations like Juneteenth and at programs like the Youth Equity Leadership Summit. This is why Kina volunteers their time to plan and host these life-changing events for students.
As the incumbent, Kina is already demonstrating their ability to serve the community
THE RIGHT KIND OF EXPERIENCE
Kina is employed by Willis Towers Watson (WTW), where they work with national and global organizations to develop strategic employee listening plans, administer employee engagement and experience surveys, and deliver executive results summaries, while advising best practices. It's this skillset that informs Kina's philosophy that their role as a school board director is to facilitate and help create a safe, inclusive space for teachers to teach, and students to learn. And this should all be done in a transparent process, where parents and caregivers know the lines of communication are always open.
There needs to be strong leadership among board members demonstrated by teamwork, effective communication, problem-solving skills and positive relationships between the board and the superintendent.
COMMITMENT TO THE COMMUNITY
Not only has Kina served as the sitting Bend-La Pine School Board Director since December 2022, but they also have served on the Core Advisory Board (CAAB) since November 2021. In this capacity, Kina advises the Bend Urban Renewal Agency on implementation of the Core Area Tax Increment Financing (TIF) Plan. The Plan identifies a variety of projects and a funding source (tax increment) to invest in the area over the next 30 years. CAAB also provides recommendations directly to City Council on actions that support implementation of the TIF Plan.
Kina believes commitment means putting in the hard work while upholding our community's values. Keeping our schools safe means we shouldn't be pushing a political agenda on our students and teachers.
Sign up for OUR volunteer activites